RAC/M Identity
SIMPLIFY YOUR IDENTITY GOVERNANCE PROGRAM
to achieve compliance while
reducing risk and costs
RAC/M Identity™ is a simple, effective, IGA solution that enables organizations large and small to understand and manage the complex relationships between users and their access to physical and digital assets, whether on premises or in the cloud.
It is the cornerstone upon which to build a successful IAM program capable of taming your most daunting challenges such as:
Lack of resources
Limited budgets
Strict timelines
Complex technological and business landscape
RAC/M Identity™ also addresses one of the most difficult challenges faced by IAM programs – maintaining executive support.
It automatically generates a composite health score that reflects the maturity and effectiveness of key IAM processes, enabling executive management to assess progress made as well as the remaining road ahead on the journey.
Lower your Identity governance costs
You can achieve substantial costs savings and avoid maintaining highly skilled staff by adopting Identity Governance as a Service based on RAC/M Identity deployed in a dedicated public or private cloud. This eliminates the need for a costly and complex on premises infrastructure while OKIOK provides management services such as monitoring, evergreening, upgrading, security patching and evolution.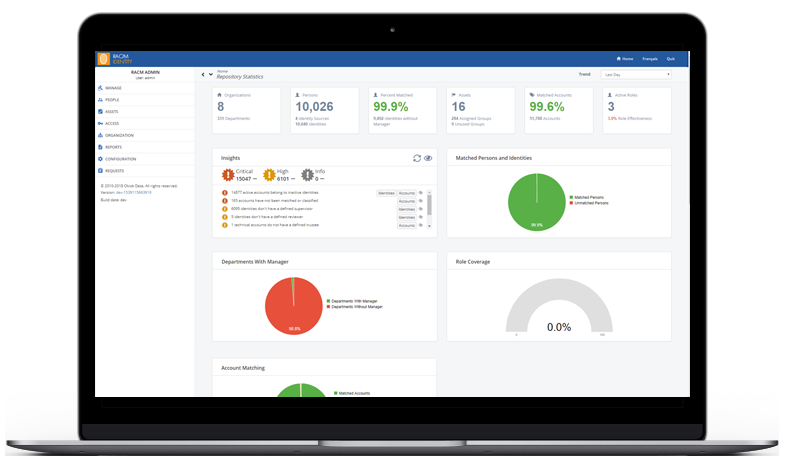 A DIFFERENT APPROACH, FOCUSING ON IDENTITY GOVERNANCE
RAC/M Identity differs from traditional Identity Governance and Administration (IGA) suites by being part of a full-service offer, backed by a proven, risk free deployment methodology.
Our approach is squarely centered around implementing a solid foundation, focused on enhancing identity governance processes as a prerequisite for automating provisioning.
Request a presentation – RAC/M
Once and for all, take control of identities and accesses!
Fill out the form below, one of our Rep will contact your shortly.